Motorini SXR Goes Off Road
Read the full article from Motorcycle Trader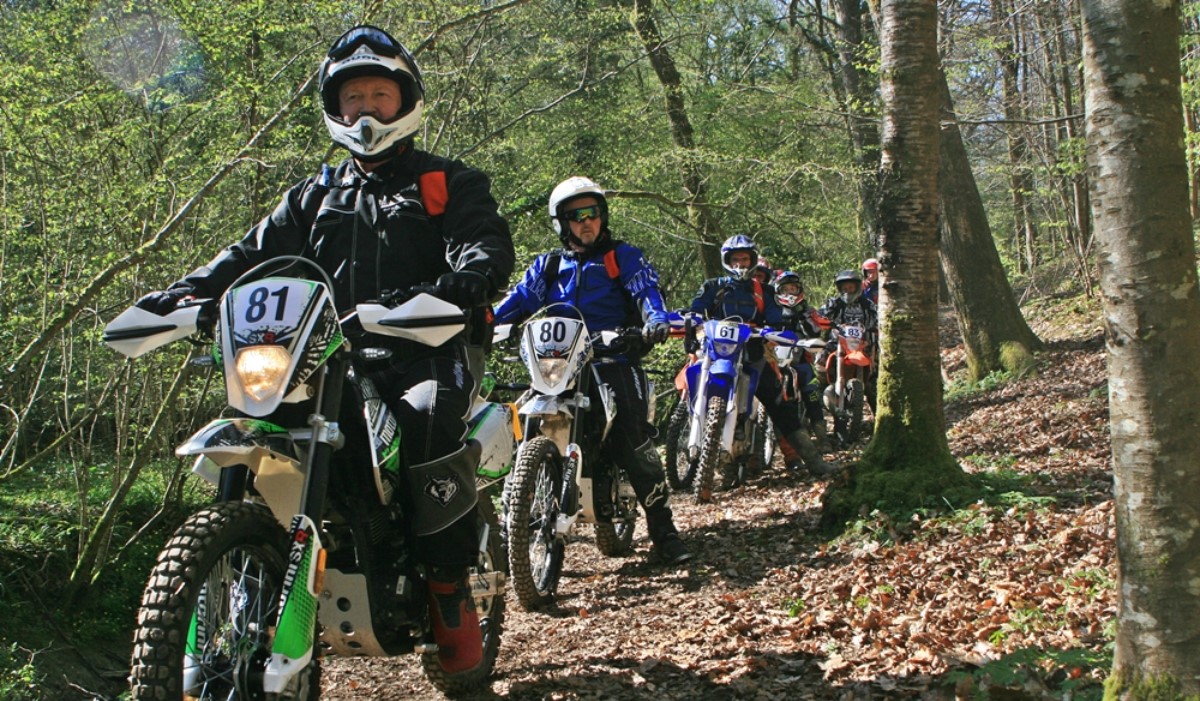 MOTORINI HITS THE DIRT
Deciding that it was time to dust off the cobwebs and get out and about on two wheels, Trader's Andy Foulkes found the 'ideal' discipline, but what to ride ….
"Around 100 miles of mixed road and off-road with a dozen or so old-time trials sections along the way. Lots of riding at an easy pace and no-one takes it too seriously." That's how Long Distance Trials events were sold to me by some long-term, Trials/MX/Enduro riding, so-called mates who had taken up this branch of the sport when they packed in 'serious' riding a few years back.
That all sounded rather fine to me. Yep. I'll have a go. But what do I ride? Take the Greeves Scottish off SORN? Register the Yamaha Pinky? Nah… It sounds more like an enduro bike is better suited. But maybe that is taking it a bit serious? Especially on the money front. Seven grand for a new KTM? That would be nice. But would the wife fall for it? Hmmmmm…. Maybe a secondhand trail bike? I've got an excuse then to cover for my lack of practice. And skill.
So… Get hold of an old traily and spend a few bob getting it sorted. A grand or so should get something half decent. A DT125? A DR350? Let's have a look on eBay…..
And there the happy little plan and building enthusiasm started to fall apart. The eBay phenomenon has sent prices flying into orbit and beyond, with even total nails fetching stupid money from clearly deranged dreamers. The days of online, and even local bargains are history. Everything is a modern classic. Apparently. 
A day or two sulking ended with a flashback to a tasty looking 125 trail bike on the Motorini stand at Motorcycle Live, and a call to Motorini distributor Dean Clements of Clements Moto produced the offer of an ex-press test machine at trade money. The Long Distant Trial plan was back on.
In fact, Dean was just a little wary about overselling the off-road performance of the little learner legal SXR125, pointing out that it was not meant for serious off-road events and gently trying to steer me towards the clearly more suitable latest Fantic 250s that Clements Moto also distributes. Lovely though the Fantics are, and probably the perfect tool for the Long Distance Trial format, I couldn't invent a viable list of excuses for 'buying another toy that will sit in the garage' that the better half would undoubtedly hit me with through clenched teeth.
The SXR quickly became the bike of choice over the wet and slimy winter months, reminding me that there was no real time penalty on the mostly traffic-jammed local trips and even longer Sussex back-road outings. It's actually a damn fine little bike with some quality touches like stainless steel footpegs and exhaust pipe, braided steel brake hoses and knobbly trail tyres that didn't slip-slide away without warning. Overall a very pleasing little purchase.
Back to the Long Distance Trial plan and with an entry in for the Reigate and Redhill North Downs MC event in early April suddenly upon me, I fitted rim locks front and rear, keeping the standard tyres because I simply hadn't allowed myself time to get some more suitable off-road rubber, and stuck on a Motorini aftermarket silencer that freed up a little more mid and low end.
There was an interesting mix of machinery on the day. KTM Freerides appeared to be the weapon of choice with other, mostly enduro, models from the Austrian manufacturer also popular. Various models from Gas Gas, Beta, Husqvarna, Yamaha were also popular among the 88 entry, but the Motorini was only Chinese made, learner-legal machine in evidence. 
At the start there were mostly kind comments mixed with a few, more dubious, 'It'll be interesting to see how it goes' remarks.  
So how did it go?
Well. After over seven hours of brilliant riding in equally brilliant weather on a mix of about 50/50 roads and off-road trails and private land including 19 observed sections, the little SXR125 had won a good few admirers amongst the entry. 
The SXR was far more competitive than I expected, and certainly more capable than the rider. This learner-legal 125 finished 48th out of 88, with some serious and expensive machinery behind it. That's the long and the short of it. A great day's riding on a great little bike.
Changes? Next time out I will try some different rubber and a different spring or shock on the back for better off-road performance – That's all.
Okay, so most Motorini SXR125 customers aren't ever going to go off road. But if they want to, they can. And with a few inexpensive mods and the right rider on board……..